Fair Play Cottage
The Fair Play Cottage at Lucinda's Country Inn is a perfect California Wine Country getaway. As you step into the cottage you are greeted by soothing light grey walls and airy cathedral ceiling. Rose and pink are perfect colors for the bathroom, complimenting the exquisite champagne-colored Kohler Memoir fixtures. The candle wall-lights at the sink provide great light for freshening up and putting on make-up. The pine plank floor is wood milled from trees harvested from the property during the clearing to build Lucinda's.
Romantic and private, the Fair Play Cottage is your hideaway from the world, across a patio from the main house. This cozy enclave has a whirlpool tub with a see-through fireplace at the foot of the tub that looks into the bedroom area where your king-size bed with pillow-top mattress waits for you to snuggle in for the night. The large walk-in shower provides a great view of the woods behind the Cottage. Relax in the comfy sitting area: read a book, watch a movie, enjoy a cup of coffee or a glass of wine while chatting with your honey. The bistro table is A PERFECT place to nibble on snacks. Sit out on the porch to enjoy the view of oaks and pines (and maybe a deer or two). Of course, all the amenities mentioned on the Rooms and Rates page are present in the Fair Play Cottage.
Be sure to select a DVD from the library upstairs adjacent to the Great Room to enjoy on the 27-inch HD flat screen TV or watch your favorite show or games on HD DirecTV.
$225/night Friday and Saturday
$180/night Sunday thru Thursday
Accommodates 2 guests only!
Rate is based on double occupancy
No space for additional people in this room
One small Dog or Cat Only; weighing less than 15 pounds and sleeps in a cage or crate. NOT allowed in the bed or on furniture. $50 per stay.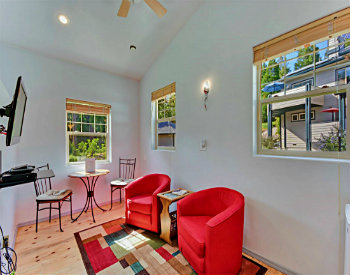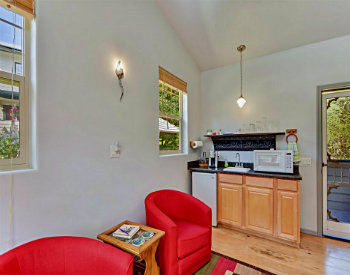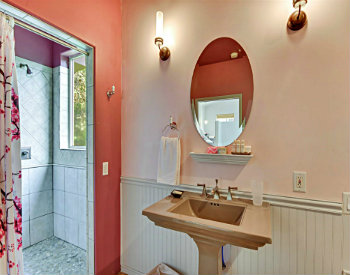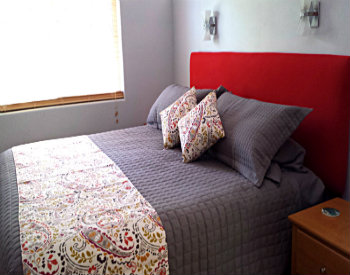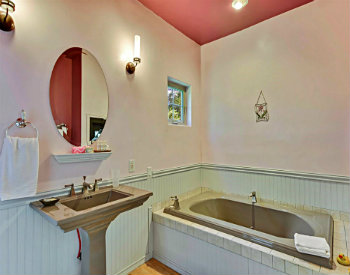 << Previous Room | Next Room >> | View All Rooms | Book Now