Country Suite
The Country Suite accommodations at Lucinda's Country Inn offer a spacious welcome to California's Gold Country. Soft beige, sky blue and vibrant maroon offer an inviting color scheme for relaxation and enjoyment. Make yourself at home in the sitting area's recliners to watch a movie or just enjoy the fireplace. There is also an afghan in case you want to take a little nap.
Two is definitely not a crowd in the bathroom with its maroon-accented walls. This large room has a spacious walk-in shower, a whirlpool tub with ample room for both of you, and a large vanity with two sinks with plenty of cupboard and drawer space to store your belongings. To complete your relaxation we can arrange for a therapeutic massage right there in the bath area or elsewhere in the suite.
The step-up sleeping area is bathed in pale blue for a restful night's sleep. A click of the remote will let you enjoy the two-sided fireplace without losing your place in your book. Settle in the recliners to enjoy a movie, your favorite show or games on HD DirecTV.
There are an abundance of windows in this suite on the Inn's lower level. Open the blinds and you will feel like you are a part of the outdoors. Or slip through the sliding glass door to your private deck where you can enjoy a glass of wine, read a book or just enjoy looking at the property.
Of course, all the amenities mentioned on the Rooms and Rates page are found in the Country Suite.
$225/night Friday and Saturday
$180/night Sunday thru Thursday
Rate is based on double occupancy
The Country Suite is designed to accommodate 2 guests
No pets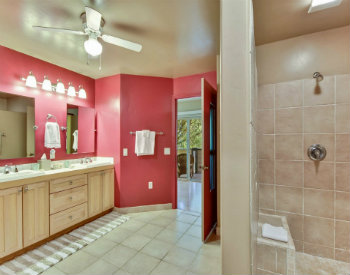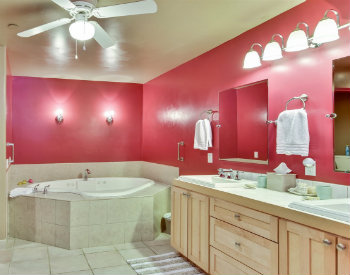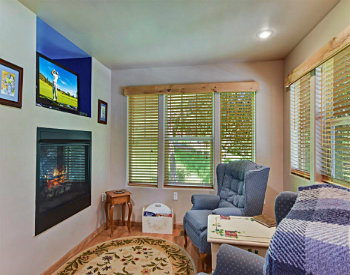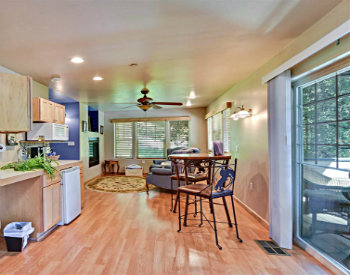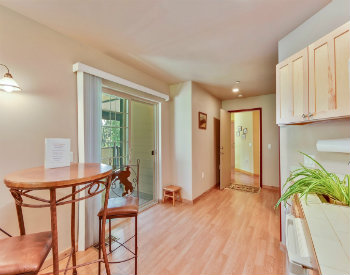 << Previous Room | Next Room >> | View All Rooms | Book Now