Laguna Suite
Enjoy a taste of Laguna Beach in the main-level Laguna Suite, featuring colors and details that reflect this iconic city. This relaxing lodging option welcomes you to Lucinda's Country Inn in California's Gold Country.
Accessibility: This is our universally friendly suite, offering a roll in shower, open counters for accessibility, 5 foot circle in the bathroom with grab bars, and rocker switches that are within easy reach for anyone. Getting to the Laguna Suite is as easy as cake; ramps for both the front and side doors with 1/2 inch thresholds, lament floors in the common area and 4 1/2 foot wide halls and lever door handles make the trek smooth as silk.
The "ocean zone" greets you in the Laguna Suite where sky blue, aquamarine and light grey envelop you and create that misty feeling you get at the ocean as the waves break ashore, the marine layer burns off and the colors on the horizon become sunny & clear.
Speaking of the shore, this room's walk-in shower has a beach-like floor, including footprints and hand prints. A unique corner "rock cliff waterfall" is one of three sources of water to shower in. The vessel sink in the corner reflects the style of the outdoor sinks found in Laguna Beach with pebbles underfoot, albeit for aesthetics instead of to direct water to the storm drain leading to the ocean. Of course, all the amenities mentioned on the Rooms and Rates page are found in the Laguna Suite.
The HDTV in this suite is connected to DirecTV for your convenience and enjoyment. DVDs of movies, older television series and concerts are available in the Inn's library to play on your in-room DVD player.
$225/night Friday and Saturday
$180/night Sunday thru Thursday
Rate is based on double occupancy
A hide-a-bed can accommodate two extra guests for an additional charge per guest or if used with only two guests in the room there is an extra charge
No pets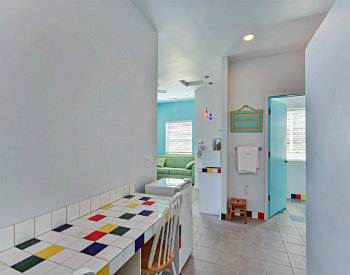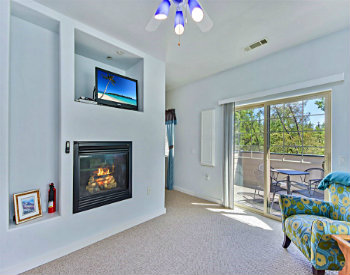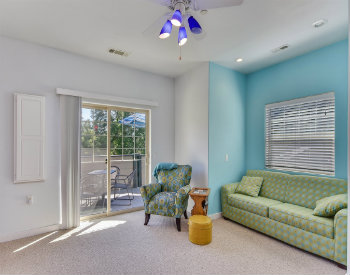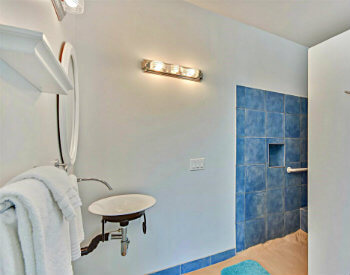 << Previous Room | Next Room >> | View All Rooms | Book Now